Frequently Asked Questions
Colorado Springs Senior Portraits
When should I have my senior portraits taken?
Seniors usually have their portraits taken the summer before their senior year. Most high schools require their senior portrait submissions by the first of November, but senior pictures can be taken any time during your senior year (they may just not make it into your yearbook by the deadline).
Sunrise or sunset creates some of the most beautiful light for pictures, but any time of the day works with the right placement and posing.
What are my school's requirements for my senior portrait?
Most high schools require a portrait orientation of your head and shoulders, saved digitally at 2"x3" at 300 dpi (dots per inch). Each high school has a different due date, though. Here are links to some of the high schools in our area and what they require for senior portraits. Check back if you don't see your high school on the list. Some high schools wait until closer to the start of the school year to release their senior portrait information. To be on the safe side, though, you should try to have your senior portraits done in the summer or early fall. Senior year is a busy one once it starts!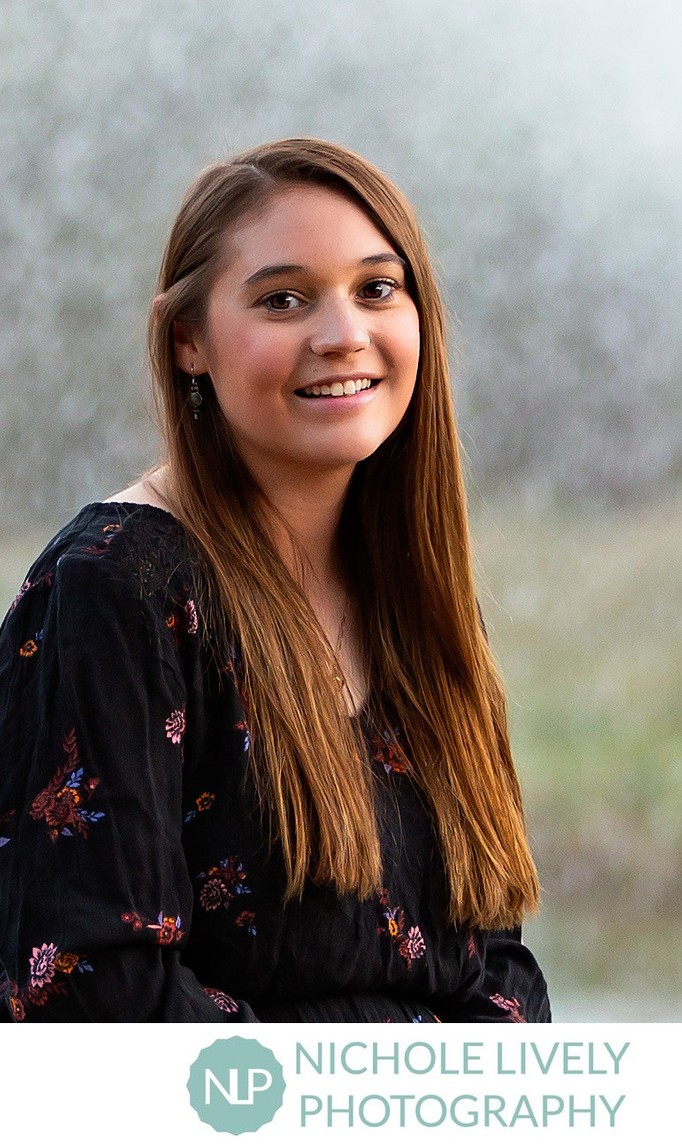 Air Academy High School
Falcon High School
Pine Creek High School
Rampart High School
Widefield High School
How much do senior pictures cost
?
My session fee is $200, and includes a pre-session consultation, approximately 1-1.5 hours of photography time, editing, and submission to your high school yearbook.
I also offer several packages with prints, albums, wall art, and digital images, separate from the session fee.
How do I schedule a session with you?
We will look at the best date for both of us after I receive a signed contract and paid non-refundable session fee.
Will the weather affect my session?
If the forecast shows rain/snow for the day of our session, we will watch the weather closely and reschedule for the next best day if necessary.
What if I need to reschedule my session?
I understand that life happens and sometimes unexpected issues come up. We can reschedule once with at least a 24 hour notice. Each reschedule after that, or with less than a 24 hour notice, will incur a $100 reschedule fee.
What should I wear for my senior pictures?
I have a style guide that you'll receive when you book your senior session that talks ALL about outfits and accessories, but the short answer is: wear what you're most comfortable in, and makes you feel fabulous!
How many outfits can I bring?
Most seniors average three outfits a session, but I'll tell you to bring at least five outfit combinations. It all depends on what you want from your session.
Can I bring a friend?
Absolutely! Just know that I tend to put people to work – making funny faces behind me and holding props as needed. If you want to include your friend in a shot or two, we have a BFF addition for $50 a session.
* Please note that if you are under 18 years old, you must have a parent or guardian in attendance of the entire session.*
How long after the session will it take to see my photos?
Your portraits will be available within two (2) weeks of your session.
How will I be able to view my portraits?
We will all get together - you, me, and all the decision makers regarding your portraits - and we'll view your gallery in person. This reveal session will be where you order your products.
How long does it take to get my portraits after I order them?
Depending on the products ordered, it takes 3-6 weeks to receive your portraits from the photo lab.
Can I share my images on social media?
Absolutely! I ask that you photo credit/tag me when you post an image.
Nichole Lively Photography © 2022 - (719) 922-0315 – 5864 Harney Drive, Colorado Springs, CO 80924 Privacy Terms of Use